By sharing or embedding the Guest Chat URL in your reports, results, referrals, SMS, or emails a secure and live communication channel can be initiated in seconds into your business.
💡 6 Considerations before setting up Foxo's Guest Chat:
Which team(s) look after the inbound communication? This can be one Concierge Team (i.e. Referrer Contact Centre, Referrer VIP etc) which will triage incoming Cases to other internal Teams or multiple Teams serving different areas or cohorts.
What's the best mechanism to share the guest chat link and/or QR code? The link can be embedded in templates of PDF reports, results, referrals or pasted into emails or SMS. It could also be a stand-alone link, i.e. yourorganisation.chat
What other identification protocols will need to be established? Once the referrer has clicked on the link, they will be asked to provide name and email address before the chat window will open up. Think of further information on top of name and email (i.e. practice name, provider number, patient's Medicare number etc) that could be asked by the receiving Team to identify the incoming referrer query.
What are the workflows to resolve the incoming query? Define workflows for how your Team(s) are going to resolve the incoming queries from your extended network. Depending on whether Foxo is widely embedded, the incoming Case can be shared with other Teams on Foxo. If Foxo isn't embedded, what other escalation pathways are available (i.e. email)?
Who would be the best group or cohort to trial Guest Chat with? This could be a small group of supportive referrers or a few that need frictionless live communication (phone alternative) urgently.
How will you launch Guest Chat to your trial group? Decide on how to inform your referrer group on the launch of Guest Chat (i.e. email campaign, recorded webinar etc).
👉 Download our 4 Steps to Guest Chat Guide here.
👇 Guest Chat Setup
❗Ensure you have Guest Chat enabled for your Organisation. This is an add-on module that needs to be enabled by your Foxo Account Manager.
1. Go to the Team that will be managing the incoming guest communication
2. Go to Settings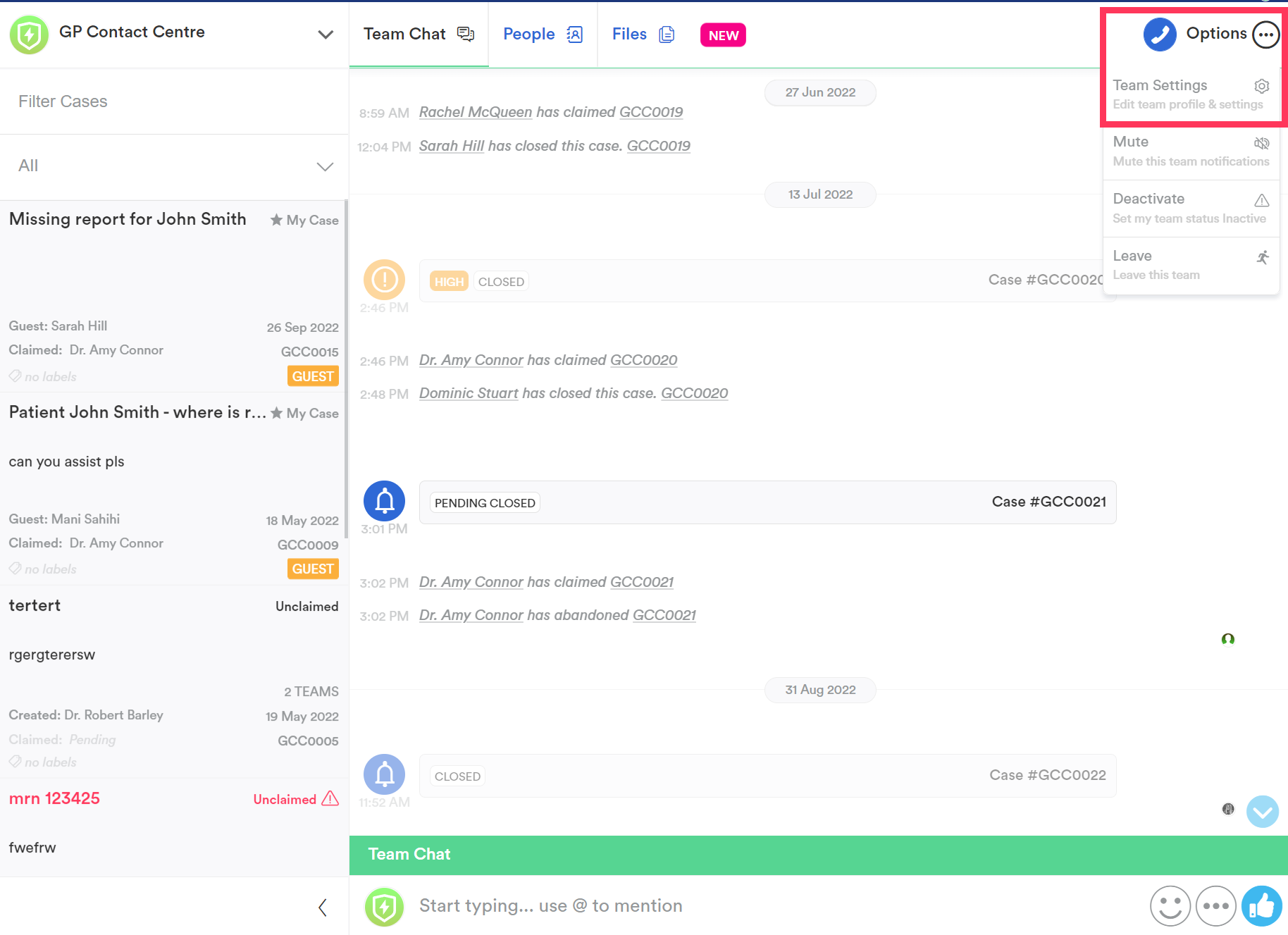 3. Scroll down to the section Guests.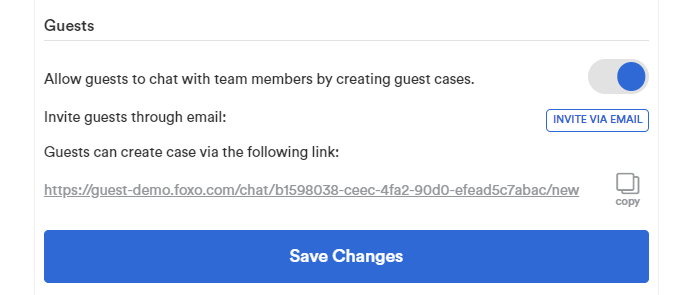 4. Enable the Guest feature, which will expose a new URL
5. Copy and unique URL
6. Click Save
7. Paste the copied URL in your preferred distribution method (i.e. report, email etc)
👇 Sample Report:
💡Good to know:
Incoming Guest Cases will be marked with the label "Guest"
Guest Cases follow the same workflow as other cases: they can be viewed, claimed, closed and shared with other Teams.
Guests will be notified of new communication/activity in their Guest Chat window via email. The email contains a link that launches back into the Guest Chat window in case they closed it.
Once closed, Cases can be re-opened by the guest.
All information contained in the Cases can be accessed at any time.