Connect your Medical Director software to Foxo to enable live chat and referrals
1. First, you need to create your Foxo account.
2. Once your Foxo account is setup, download Foxo's Adapter (exe) here: https://foxo.com/install
3. Run the Install and select "Install for all users":
4. Step through the installation modal:
5. Open your Foxo account and navigate to your Profile (click on your profile image top right)
6. Click "Integrations" from the right side menu (Shortcut: Integrations)
7. Click "Add Integration" (choose your Patient Management System)
8. Give it an Alias (eg. Front Desk)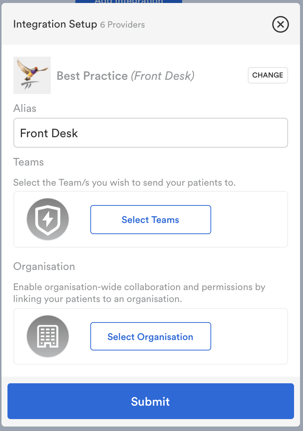 9. Choose a Team - this is the Team you'll be sending patients to (eg. Radiology bookings team) Contact us if you don't have any teams to send to yet
10. Skip 'Organisations' - this is not mandatory
11. Press Submit
12. Copy the API endpoint (copy to clipboard)

13. A new window should popup automatically. If it doesn't, from your taskbar, right-click on the Foxo icon and select "Install for Practice":
14. "Paste" the API endpoint you copied from Foxo's Integration page
15. Close and re-open the PMS, then test with a test patient (find a test patient in your PMS and press the Foxo button).
To use the Foxo integration, press the Foxo Button that appears when viewing a patient record. This will create a new Patient Card in Foxo.